Industrial Shields - heater box delete kit
Industrial Shields. If you are running the thermostat system, but don't need heater boxes and have installed J-pipes for the #1 and #3 exhaust, then you need industrial shields to prevent radiant heat from the #1 J pipe from opening the stat early or cooler air from around and below the car preventing the stat from opening at all.

These are proudly made in Ohio, USA from laser cut 20 gauge steel. Each part is fixture bent, then blasted and powder coated. Satin black is the standard color, but they can be done in any color we carry.

Are you running an aftermarket "tucked up" exhaust? This is when the #1 J pipe DOES NOT follow the path of the stock heaterbox. Typically the pipe is tucked up closer to the engine. We can custom modify the heater box sleds and custom build industrial shields just for you. You send us the #1 and #3 J pipes so we can test fit everything. I use brand new VW Brazil heater box sleds (that actually fit!), they are trimmed as neeed, and the industrial shields modified as needed.  Contact us for details.
How to install industrial shields engine tin video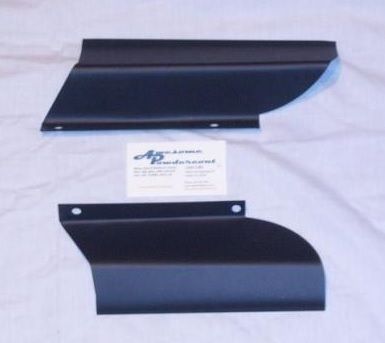 Industrial Shields
Model: VW Bug/ghia/ early bus
Engine: flat 4

ONLY $32.00
 
tabbed industrial shields
As you know, industrial shields attach to the bottom two screws on the heater box sleds, and most people are fine with that. However so people worry they may "flap in the wind" and work loose over time. Lucky for us, VW heads have 2 casting bosses on the bottom of the heads that make a perfect place to add a screw hole.
how?
1 - 5mm dia drill, only drill 7mm deep - you dont want to go into the head and have to worry about leaks
2 use a m6x1 flat bottom tap to put threads on
3 attach with normal engine tin screws, you will want to add 2 or 3 washers to get them to fit tight as you can't drive the screw all the way in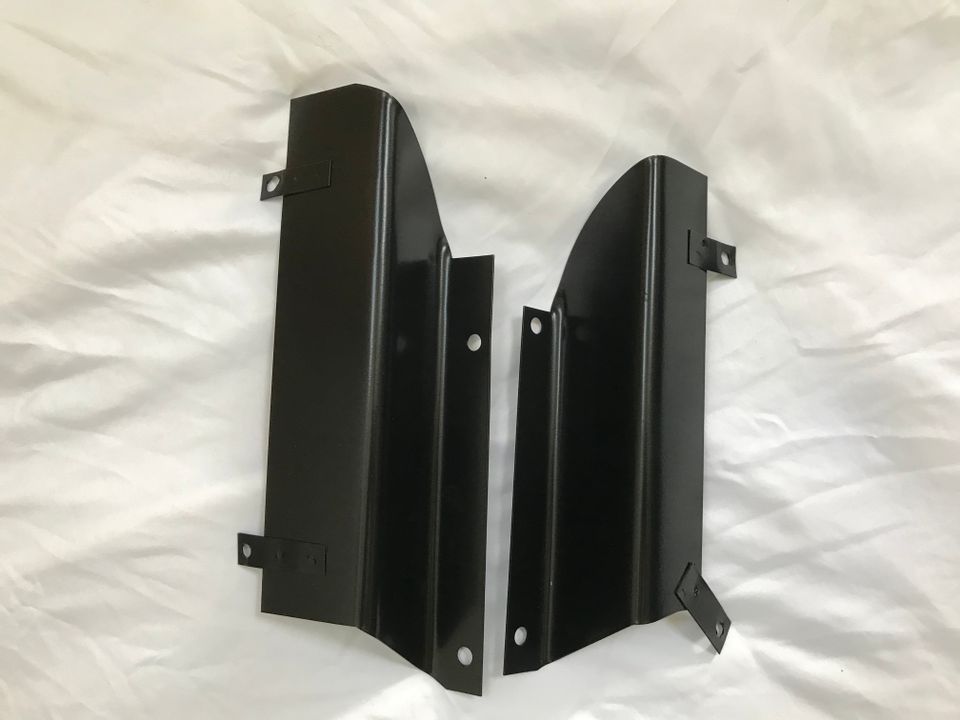 tabbed Industrial Shields
Model: VW Bug/ghia/ early bus
Engine: flat 4

ONLY $42.00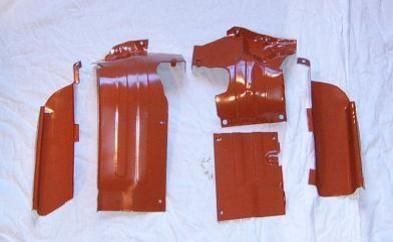 Sleds + Industrial Shields for tucked up exhaust systems
Model: VW Bug/ghia/ early bus running J pipes that do NOT pass through the normal heater box path
Engine: flat 4

YOU MUST SUPPLY #1 & #3 j PIPES!

ONLY $120.00